Antonio, 23, was supported by Centrepoint in securing housing and an apprenticeship in hospitality. During his journey with us, he had some incredible opportunities – one was work experience preparing the Chilstone Garden for the Chelsea Flower Show and the other was meeting Centrepoint's Patron, Prince William as one of the first young people to move into Centrepoint's Independent Living properties. He is now living independently on the Kent coast with his fiancée and hopes to one day run his own bar.
The difficulties all began when Antonio was just 14. His dad passed away and because his mum wasn't around, he moved between various family members for the next few years. This was an unsettling time for Antonio, but the fact that he was still at school maintained some consistency in his life.
"I found being at school was actually helpful at the time. It kept my mind off things and I managed to pass my GCSEs," he says.
Supported by Centrepoint
When he was 17, he presented as homeless and was referred to Centrepoint. Whilst he was awaiting his referral he used Bradford Nightstop. This would be hard for any teenager, but Antonio remembers feeling accustomed to the uncertainty which had helped him build up a great deal of resilience.
"I'd been moving around for so long by that point that staying with Night Stop and then Centrepoint didn't phase me. I took it in my stride."
At Centrepoint, Antonio found the staff approachable and friendly. He describes his key worker Lynn as a maternal figure that he could always rely on. "She kept you safe, looked out for you and was there when you needed her."
Work experience at Chelsea Flower Show
Whilst at Centrepoint, Antonio was offered the opportunity to take part in some work experience helping build the Chilstone Garden at the Chelsea Flower Show. He jumped at the chance.
"I wanted to take every opportunity that was offered to me," he recalls. "It was a great experience working at the Chelsea Flower Show. We got to help build the structure and plant the flowers. At that point I was considering going into the army so going to the D-Day garden was really inspiring. We got to meet lots of people too. I'm still in touch with Steve Clarke, the manager at Chilstone."
Steve was extremely positive about the contribution Antonio made to the garden.
"Antonio always had a positive attitude. He was polite, disciplined and always listened to instructions. There is a lot of pressure at Chelsea and many young people might find that overwhelming, but Antonio relished the opportunity. He did an outstanding job for Chilstone and two days later we were awarded a prestigious 4 Gold star award from the RHS."
Because of his contribution, Antonio was presented with the actual certificate that Chilstone were awarded which was on display at the Chelsea Flower Show and seen by 10,000 people.
Off the bat of his success at Chilstone,  Antonio was offered an apprenticeship in London and a chance to move into one of the new Centrepoint Independent Living properties.
"It felt natural to move on again and I thought of it as a good opportunity to start fresh," he remembers.
Meeting Centrepoint's Patron, Prince William
As one of the first Independent Living residents, Antonio met Centrepoint's Patron, Prince William when he attended the grand opening of Apprenticeship House in 2019. He also attended the Centrepoint Gala later that year where he was able to meet him again.
"It was really interesting to meet him. I didn't expect him to be so down to earth and just a normal person," he remembers.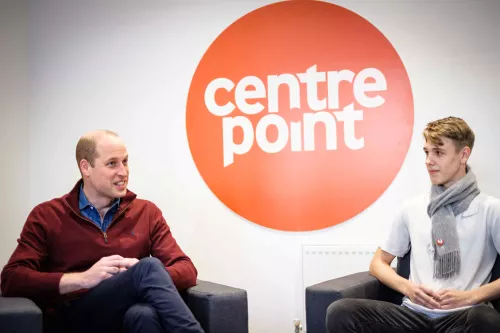 Moving on into independence
Antonio has since moved on into independence. He now lives on the Kent Coast with his fiancé and is still working is hospitality. He hopes to one day own his own bar. He is grateful for the opportunities that Centrepoint provided.
"I just want to say thank you really. They opened up a lot of opportunities for me."
We wish Antonio every success in the future.