As Prince William celebrates his 40th birthday, we wanted to reflect on his time as our Patron and the amazing things he's done to support homeless young people.
Our favourite moments with Centrepoint's Patron
Taking part in Sleep Out 
If you happened to walk past a group of wheelie bins near Blackfriars Bridge in 2009 and saw a man in a sleeping bag who looked suspiciously like Prince William, you might have dismissed that as impossible. But let us assure you, your eyes did not deceive you – 13 years ago, our patron bedded down for a long night in the cold as part of our annual Sleep Out event.
"He was determined to do it as patron, in order to raise awareness of the problem and to understand a little better what rough sleepers go through night after night," Seyo Obakin, Centrepoint's CEO, remembers.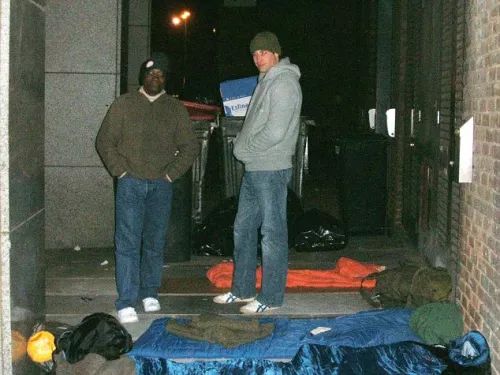 For the uninitiated, Sleep Out is our annual fundraising challenge that sees fundraisers sleep outside for one night. It doesn't replicate what it's like to sleep rough, but gives an idea of the situation a lot of young people find themselves in, while also supporting those who face this as a reality.
"I was very struck by the people I met and what they were struggling with – sleeping rough, sofa surfing, not having basic comforts a lot of us take for granted," Prince William said. "That really struck me at a young age, bearing in mind the gulf for me, growing up in a palace, and seeing the other end of the spectrum where others were faced with huge personal challenges and were overcoming them. That was powerful to see at a young age."
Visiting homeless young people in Bradford
In 2014, The Duke of Cambridge headed to our Bradford Foyer accommodation to spend time with some young people who were training in certain skills that would help them move on from homelessness.
And our patron got stuck in, chatting about fatherhood with young person and new dad Joe, and observing some filming techniques from Becky, who was learning new skills in video editing in the hopes of finding a career in the media industry.
With a real focus on boosting youth employment at the time, The Duke of Cambridge's visit really helped raise the profile of Bradford Foyer, which was in its infancy in 2014. In 2022, we support over 150 people each day in Bradford, helping them move on to independence.
Launching Centrepoint's Helpline
When we first opened our Centrepoint Helpline for young people back in 2017, we knew it was a crucial step in how we support those who need us most. Prince William recognised this, and joined us in our offices to help launch the Helpline (on the day after the BAFTAs too, which we imagine is no easy feat).
Sticking around to listen in to a couple of calls, Prince William was so struck by one caller who stated he'd been robbed twice whilst sleeping rough, that he asked to be kept up-to-date with how they got on going forward. Since his visit, the Helpline has grown – the pandemic means we have been fielding a 33% rise in calls per year, which just shows how crucial the Helpline remains.
Centrepoint's 50th Anniversary Gala 
Turning 50 was a big moment in Centrepoint's history, and we're so glad our patron was there to help us mark the occasion. In 2019, The Duke of Cambridge officially opened Centrepoint's first Independent Living housing, Apprenticeship House in Peckham.
Our Independent Living programme is Centrepoint's most ambitious programme to date, creating truly affordable homes for young people in work or an apprenticeship, and provided the kind of support young people need when they are ready to live independently. Apprenticeship House provides accommodation for up to six people, with communal areas that are perfect for socialising and private bedrooms for when young people are ready for some downtime or need to study.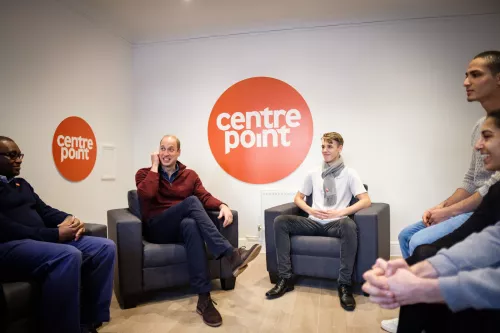 HRH took some time out to look around the new accommodation and talk to young people about the work they were currently undertaking. "You guys are the creme de la creme of what Centrepoint can achieve," he told those currently living in Apprenticeship House. And he wasn't wrong!
The Duke of Cambridge also joined us for a gala at Camden's The Roundhouse to raise crucial funds for homeless young people. In a moving speech at the event, HRH promoting the achievements of those who were being supported by Centrepoint. Many people from across the last 50 years reminisced about their fond memories of meeting Prince William – none more so than former Centrepoint young person Emilyn, who has met him four times through Centrepoint:
"The last time I met him was purely by chance," she said. "He saw me and he remembered me. He asked how I was doing in my job and then introduced me to his wife. For me that does really show how much Prince William does care about Centrepoint – he does take the time out to meet young people and he remembers their names and their stories.
Emilyn went on to study psychology after her time at Centrepoint and now works with vulnerable young people for the charity, The Challenge. But Emilyn says wherever she goes, she always tells people the story of Prince William – whether they've asked for it or not!
Cooking up a storm at Big Broth
As part of our Big Broth initiative in 2018, Prince William brought The Duchess of Cambridge, Kate along to Centepoint's Quarry View hostel in Barnsley to help young people staying at the accommodation make lunch.
The Duke of Cambridge stirred a rather sophisticated red pepper and chorizo number, whilst Duchess Kate was in charge of slicing the bread – something she was rather generous with!
"Don't be put off by the size of Catherine's bread," Prince William joked. "They're enough to wedge the door!" But we're firm believers that no bread is too much when it comes to soup, and our very own Seyi Obakin was on hand to help carry the gros pain through to be served.
The Big Broth let participants to submit their weird and whacky soup recipes, to be judged by top chefs Aldo Zilli and Thomasina Miers, with Yorkshire Provinder creating the winning product to go on sale, with profits going to Centrepoint. Luckily, 2018's offering got the seal of approval from our favourite royal couple, and raised much-needed funds for Centrepoint that year!
Selling the Big Issue
What better way to celebrate a big birthday than with The Big Issue! Prince William kicked off his birthday celebrations by donning a red tabbard and heading out with vendor Dave Martin to sell some magazines on the streets of London. Prince William agrees to take pictures with passers by - as long as they buy themselves a copy of the mag! 
"I wanted to experience the other side and see what it was like to be a Big Issue vendor," The Duke of Cambridge said. "My time was truly eye opening. I was lucky to join Dave on a warm, sunny day in June. People recognised a familiar face and were happy to give me the time of day. But that isn't the case for the vast majority of Big Issue vendors, who sell year-round – including through the bleak winter months – and are barely given a second glance by passers-by. A hardworking, funny, joyful man, Dave is the kind of person we should all be actively encouraging and supporting."
In under an hour, the pair manage to sell 32 copies - and William sticks around for longer than originally planned to make sure every copy is gone. Despite meeting a (very) famous face, everyone can agree on one thing: "He's lovely.... It's like meeting a normal person." 
Happy birthday to our patron, HRH Prince William, and thank you for your service – here's to more years of working together.
Prince William has helped out Centrepoint many times over the years - and you can help us too! Make a donation here.