Ed Worley, better known by his artist's name, Opake, battled addiction, homelessness and psychosis in his 20s. It was only the repetition of a creative process that saved him. Now in his 30s and thriving, he wants to share his experience to help others.
A fusion of joy and madness
Artist Ed Worley, better known as Opake, leans against a Stormtrooper head with Mickey Mouse ears spattered in neon paint. He is understated in the expansive gallery space, wearing a beanie and hoody, likely the same sort of clothes he used to wear when 'bombing' (spray painting) trains as a youth. All around the room, bright canvases hang exploding with bright, colourful cartoon characters – some are squashed into the frame and many of them are eyeless. His work fizzes with colour and the subjects look as though they are fighting to escape the confines of their canvas – like thoughts trying to free themselves from a psychotic mind.
Ed's work is a fusion of joy and madness – the latter of which he understands all too well. Years of addiction and homelessness in his 20s triggered psychosis and seizures, and it was only through the repetition of a creative process that he was able to pull himself out of the depths and survive. Now in his 30s and a thriving artist, he invited young people supported by Centrepoint to a private view of his exhibition at the Quantus Gallery in East London, aptly titled Sanity Through Repetition. He hopes to share his experiences with them to illustrate the power of creativity.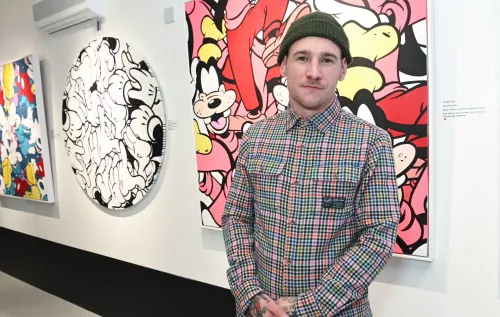 Harnessing an addictive personality
Much of Opake's art takes its inspiration from this dark and compulsive shadow that dominated his early life: "I realised my art could be my addiction," he says. "Being obsessive-compulsive, becoming addicted to things — if you can channel that into something creative instead of something harmful, you can be so powerful. To me, an addictive personality can be a superpower if you can harness it in a positive way," he reflects. "There was a time when I managed to take drugs and drink every single day. I had nothing, but I still managed to get those things because I would go to any length. I have the ability to get what I want when I put my mind to it. That to me is like a superpower, and if you put that kind of addictive superpower and transfer it somewhere else, it's unfathomable the amount that you can achieve."
It's important to note that the young people who attended the exhibition that day were all female with very different life experiences to Ed. They haven't suffered with addiction, but each will have their own individual set of problems and trauma.
"When everyone first came in, there was a disconnect between me and them," he reflects. "At first, I was just standing there talking at them. It didn't feel right to me. But then we all sat down and started talking they opened up and it felt like there was a building of trust between us. As they came out of their shells they began gaining more of a voice. This might sound so cliché, but I was really aware of the fact that we are all human –  we all need to talk and connect."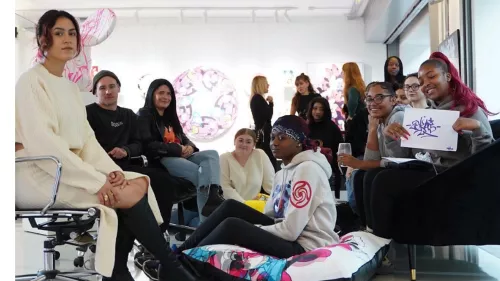 Art as escapism
"We are all individuals with our own problems," he continues. "The common ground is that we have to try and communicate that problem. If you can talk about it then its power dissipates hugely."
Ed hopes to communicate that through a creative process, you can free yourself from negative and intrusive thoughts. This is nothing new of course, but for Ed, who acknowledges his Obsessive Compulsive Disorder (OCD) and addictive tendencies, he had to trick his mind and swap his addiction to substances to an addiction to painting.
"Through the creative process I can be hyper-focused on one thing for hours. There is no space for anything else in my head, no negative or intrusive thoughts. With any mental health problem, you need to find a way to live in the moment. I think that goes for any creative endeavour, it's a form of meditation – if you are fully focused, our mind is clear. You do not need to be sitting in the lotus position to do that. However, it is important that you repeat the process over and over so it becomes second nature. Sometimes it will be hard, but you must never give up."
"The power of your mind is incredible. For me, this incredible need for a drug, at the end of the day it was just a thought in my head and you can take the power out of it. It's not easy, but it's important to remember that it's just a thought and you can overcome it. It will pass."
The young people, many of whom have a keen interest in art and design, were clearly inspired by Ed and his exhibition. Sitting on cushions covered with his lurid designs, they asked insightful and engaging questions. Tameka, 19, from South London, pondered the contrast between the darker origins of Ed's art and what comes out on the canvas. "Why is your art so happy? When I am in a bad place, I just want to paint dark stuff, but your artwork is bright and colourful. Why is that?"
In his candid manner, Ed responded, "For me, art is escapism. I want to create something joyful as an antidote to the darkness. It makes me happy."
Keighley, a Centrepoint Supported Housing Officer was excited to see how engaged the young people were at the event.
"I liked that Opake had an honest and open conversation about his struggles, and how difficult times lead him to where he is today. It's very important for young people to meet others with lived experience because during difficult times it can be hard to look to the future and remember that difficulties are often temporary. To hear that Opake was struggling with addiction, homelessness and crime only five years ago, shows that a lot can change in a short space of time. Hopefully this will encourage and motivate them to keep up with their creative endeavours."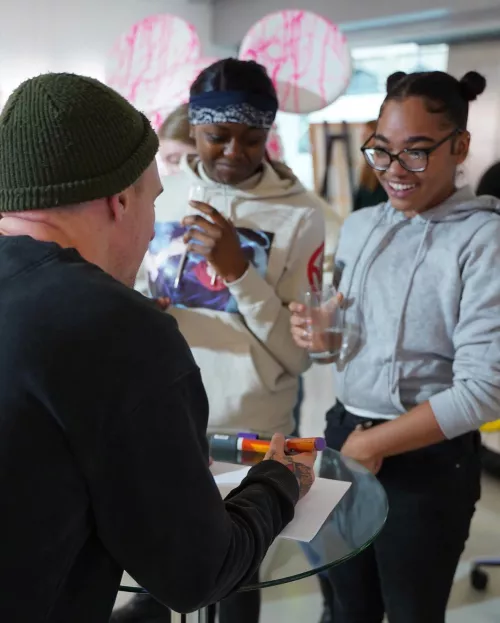 Having an outlet for expression
And it wasn't only current residents that came along to the event; former residents came too. Dancer and former Centrepoint resident Jamie, now 28, asked Ed whether he felt compelled to share his talent and knowledge with young people and he didn't hesitate to agree.
"If I can give something to young people who are struggling by sharing my experience and help them even in a small way, then I have to do that," he insists.
Jamie, who first experienced homelessness aged 16, understands the power that can be harnessed by having an outlet for expression. "Dance was the thing that saved me during that difficult period of my life. I really don't know where I would be without it," she reflects. "Having that thing that takes you away from the turbulence and pain you are experiencing can be a lifesaver."
This is why Jamie is equally as keen to share her knowledge and insight. "Like Ed, I feel it's important to share some of my experiences with others if it can help them. Jamie has been working on her workshop, Moving Upwards, for a few years now, combining movement, meditation and reflection for vulnerable young people.
Ambition for the future
For Opake, a fear of the past and ambition for the future are what now drive him forward: "Having the responsibility of two children, plus that human connection, is a huge part of why I remain sober today," he says.
"I never want to return to where I was. It was such a lonely and empty place to be. You're not living, you're surviving. I was just stuck in this constant destructive loop." But Ed also acknowledges that his experiences are what shaped him: "It made me who I am. Living how I lived and going through mental trauma, that stuff made me grow as a person. At the time it was horrendous, but it was a life experience that has made me grow internally."
Meeting young people at Centrepoint had a profound effect on Ed and he hopes that he can continue to get involved with Centrepoint's work.
"It blew my mind meeting those young people. I really didn't know what to expect going into it because it was so far removed from my comfort zone, but it felt so beneficial."
"As human beings, we all need to sit down more and talk and do something creative together.  I hope I can do more things like that with them and that it will be a positive experience for them."